Product Overview
Perfect for kiosk and gift shop applications, the new METAZA MPX-95 photo impact printer is an affordable, easy-to-operate solution for personalizing high-value metal items and making them even more unique and profitable.
You'll need a kit!
Gift Marking Kit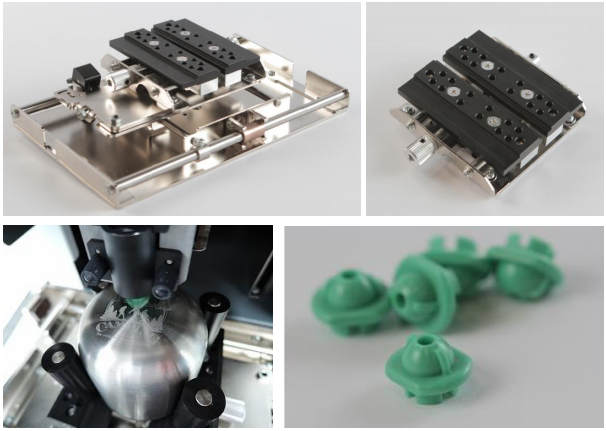 Kit includes: Movable center vise, round head caps, clamp pins.
Featuring a standard center vise and adjustable clamp-pin vise, the Gift Kit supports personalization of simple metal items plus curved and irregularly shaped items. The Gift Kit is an essential addition for gift personalization.
Direct Part Marking Kit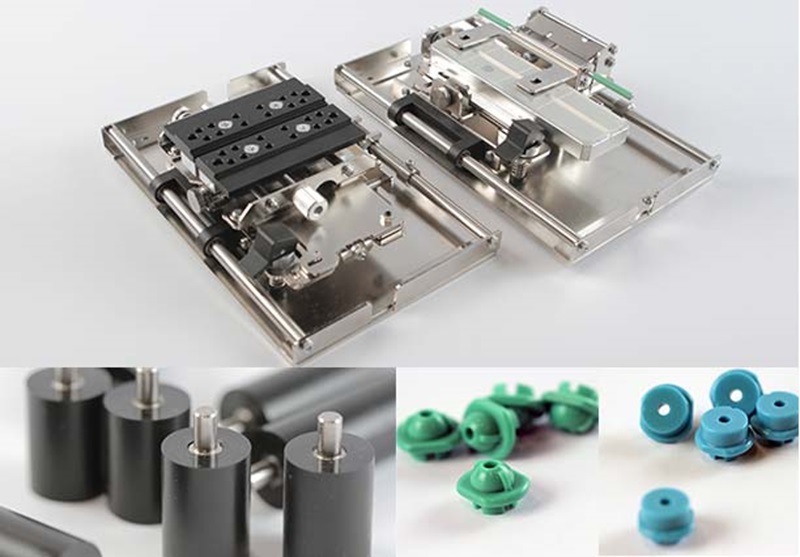 Kit includes: Movable center vise, pinching vise, flat and round head caps, clamp pins, 2D software upgrade.
Featuring a DPM vise and adjustable clamp-pin vise, the DPM Kit allows users to effectively mark onto simple and intricately shaped surgical instruments, industrial parts and tools. The DPM Kit is an essential addition for marking tools and surgical items.
If you have any questions about this machine and how it can work for you contact us today! Call us at 1-800-383-5185 or send us an email we'd love to help you!
The new MPX-95 photo impact printer is the most versatile addition to the METAZA family ever.
With a host of new options, the METAZA MPX-95 can be customized to meet the demands of a wide array of impact printing applications on materials like gold, silver, platinum, stainless steel, titanium and acrylic. Everything from gift personalization and award customization to commercial Direct Parts Marking (DPM) and advanced medical Unique Device Identification (UDI) marking can all be achieved with this single platform.
Efficient and easy-to-use, the MPX-95 delivers photo realistic results quickly, quietly and cleanly.
Unlike rotary or laser engraving devices, the MPX-95 imprints without removing any material from the printing surface, so there's no debris or mess. This is an important factor, especially when imprinting on precious metals or marking surgical instruments in medical environments. In addition, no daily maintenance, special power or ventilation is required. Each MPX-95 comes bundled with powerful, user-friendly METAZA Studio software, which makes it simple for users to incorporate photos, fine text and other graphic elements into their designs.
The MPX-95 base model is suitable for a wide variety of imprinting applications. You can upgrade the MPX-95 platform with optional application-specific accessory kits to further enhance its capabilities. The GK-1 Gift Marking Kit and the DK- 1 Direct Parts Marking Kit were developed specifically for their respective markets, maintaining base model affordability while offering value-added machine customization options.
Features at a glance
Imprints photo-realistic images onto materials such as gold, silver, platinum, stainless steel, titanium and acrylic
High-resolution print head with diamond stylus for marking hard metal and other materials of up to 200 HV (Vickers Hardness)
No-mess direct impact marking produces no metal debris or harmful fumes
Small portable desktop platform (11.3" W x 15.1" D x 12.2" H) maximizes workspace
Bundled with easy-to-use METAZA Studio and Dr. Engrave software
Printable area of 3.2" x 3.2"
Removable base allows for impact printing on materials up to 2.8 inches thick
Clear enclosure designed for quiet operation can be opened for larger workpieces
Laser pointer for quick and accurate workpiece alignment
Removable grid table with silicone pad to align and secure small parts
Two optional application-specific accessory kits for giftware and DPM/UDI parts marking
USB connectivity
One-Year Trouble-Free Warranty
Key Features and Benefits
Compact, Quiet and Portable
The MPX-95 photo impact printer runs quietly, cleanly and safely in any gift shop, retail store, kiosk or manufacturing environment. This compact, portable device can be taken virtually anywhere for the on-site production of personalized giftware, making it ideal for craft fairs, pet shows and other special events.
No Mess, No Hassle, High Profit
With the MPX-95, you can customize highly profitable, one-of-a-kind creations from materials like gold, silver, platinum, stainless steel and titanium. Its user-replaceable MPH-90 print head boasts a durable diamond-tipped stylus that strikes the material with unsurpassed speed and precision, allowing for accurate reproduction of even subtle gradations and detailed text. Plus, the MPX-95 does all this without the mess of traditional rotary engravers or the potentially harmful fumes associated with laser marking.
New Versatile Removable Table and Base Plate
Users can expand the MPX-95's profit-making potential in seconds. The base of the device can be removed easily, enabling the MPX-95 to imprint onto large items such as golf clubs, metal vases, and industrial parts.
Easy-to-Use Software Included
The MPX-95 comes with powerful, userfriendly METAZA Studio, design software, making it simple to achieve great results. METAZA Studio accepts artwork, designs and photos from a wide variety of sources, including digital cameras, mobile phones, and bmp, jpg or Adobe® Illustrator® files. With the MPX-95, you can choose from a selection of TrueType fonts, or create your own single-stroke or fill fonts. For added impact, you can wrap text around an arched line or the contours of your design. The MPX-95 also features included Dr. Engrave software, which uses variable data created in txt. or csv files to produce serial number plates for product identification and tracking. The MPX-95 Head Manager utility makes replacing and calibrating the print head quick and easy.
New Laser Pointer Alignment
The MPX-95 comes standard with a built-in laser pointer to take the guesswork out of positioning your workpiece. Operators can easily identify where the center of their image will be printed on almost any material, ensuring optimum precision and alignment.
More Information
Specs

Imprintable material
Gold, silver, copper, platinum, brass, aluminum, iron, stainless steel, titanium, etc.
(Vickers hardness [HV] of the imprint surface must be 200 or less.)
Loadable material size
Using a base table + base plate:
Max. 3.9 in (W). X 7.9 in. (L) X 1.6 in. (H)
(100 mm (W) X 200 mm (L) X 40 mm (H))
or
7.9 in. (W) X 3.9 in. (L) X 1.6 in. (H)
(200 mm (W) X 100 mm (L) X 40 mm (H))

Using a base plate only:
Max. 3.9 in. (W) X 7.9 in. (L) X 2.8 in. (H)
(100 mm (W) X 200 mm (L) X 70 mm (H))
or
7.9 in. X 3.9 in. X 2.8 in.
(200 mm (W) X 100 mm (L) X 70 mm (H))
*The above are for when the cover is closed. When the cover is open, there is no limit on how large the material can be, but the imprint area of the material must be placed within the imprint area.
Imprint area
Maximum imprintable area
3.2 in. (W) X 3.2 in. (D) X 2.8 in. (H)
80 mm (W) X 80 mm (D) X 70 mm (H)
Recommended imprint area
2.0 in. (W) X 2.0 in. (D) X 2.8 in (H)
50 mm (W) . 50 mm (D) . 70 mm (H)
Resolution
High resolution
529 dpi
Photo
353 dpi
Text
265 dpi
Vector
1058 dpi
Imprint direction
Unidirectional imprinting or bidirectional imprinting (Selectable with Windows driver)
Imprint speed (Default)
Photo
2.0 in./sec (50 mm/sec)
High resolution/Text
1.2 in./sec (33 mm/sec)
Vector
0.94 in./sec (24 mm/sec)
Interface
USB
Power requirements
Dedicated AC adapter
AC 100 to 240 V ±10%, 50/60 Hz
Main unit
DC 19 V, 1.2 A
Power consumption
Approx. 21 W
Operating noise
70 dB (A) or less
Operating temperature
50 to 86°F (10 to 30°C)
Operating humidity
35 to 80% (no condensation)
External dimensions
11.3 in. (W) x 15.1 in. (D) x 12.2 in. (H)
286 mm (W) x 383 mm (D) x 308 mm (H)